Our Journey to Becoming Gym Owners
Now this is a story all about how our lives got flipped, turned upside down. I'd like to take a minute, just sit right there and I will tell you how we became the owners of the climbing gym here.
Our story is not the same as the Fresh Prince's story; however, I'd like to think that we had similar beginnings: we were all immature, passionate, eccentric individuals just moving through life, unaware of how drastically things would change.
It is hard growing up feeling discontent with the direction your life is going. It's not that my parents were wrong in encouraging me to go to university and get a stable job. The issue was that spending 9 hours a day in a workplace that gave me ZERO satisfaction was a very unfulfilling life. If you ever find yourself looking at a coworker who has been at your company for 15 years, and your only thought is that you never want to be like them, that is the wake up call you need to start searching for a new path.
Trevor and I came to this realization while on a climbing trip. We had spent the day climbing and were just chilling by the evening campfire drinking beer, when we started to lay into our day jobs. Fantasizing about what other possibilities could be out there, we came up with the grand idea of opening a climbing gym. Now, campfire talk is all bark and no bite, but the next morning the thought was still on my mind. I told Trev, "Let's do it! We can actually make it happen and open a climbing gym." He was on board. This was the first time in my life that I knew I was heading in the right direction.
I wish we had a magic lamp and could have instantly made a gym appear, but life is never that easy. It took us many years of preparation and planning to actually bring our dream to fruition. This endeavour wasn't all smiles and sunshine either -- it was a never ending obstacle course where the finish line was nowhere to be seen. The saving grace is that we had good family and friends who were there to support us, and who continually encouraged us to not give up on our goal.
The first time everything became real was in Feb 2016 when we incorporated. It was the first time we committed physical money to the business. Describing the momentous occasion as intimidating and nerve wracking would be an understatement. But underneath the fear in taking this first step were also feelings of excitement and determination. Signing leases and beginning construction were the milestones I had longed to reach, and they were finally here. I was eager to get started and see our efforts turn into something tangible.
Little did I know of the long days that were coming. Dec 30th was the day we started 3 months straight of 16 hour construction days. We opted to do as much work ourselves as possible to save money. We painted, we sawed, we installed bathroom dividers. Our plumber told us we could chip up the concrete ourselves so we would only have to pay him to lay it down, and we naively took that on. It sounded easy -- until you consider the fact that we had zero experience, and various power outages and heater malfunctions were lying in wait for us. We also suffered setbacks when our architect failed to consider the HVAC requirements for passing our safety inspection. The whole process quickly became a gruelling slog that we vowed we would never, ever undertake again.
I'd like to thank our friend Matthew Miller who we conned into helping us with the concrete chipping. The rest of the project completion we owe to our knight in shining armour, Trevor's uncle Guy, who helped us with all the renovations. He's also responsible for the beautiful cabinetry we now have at the front desk.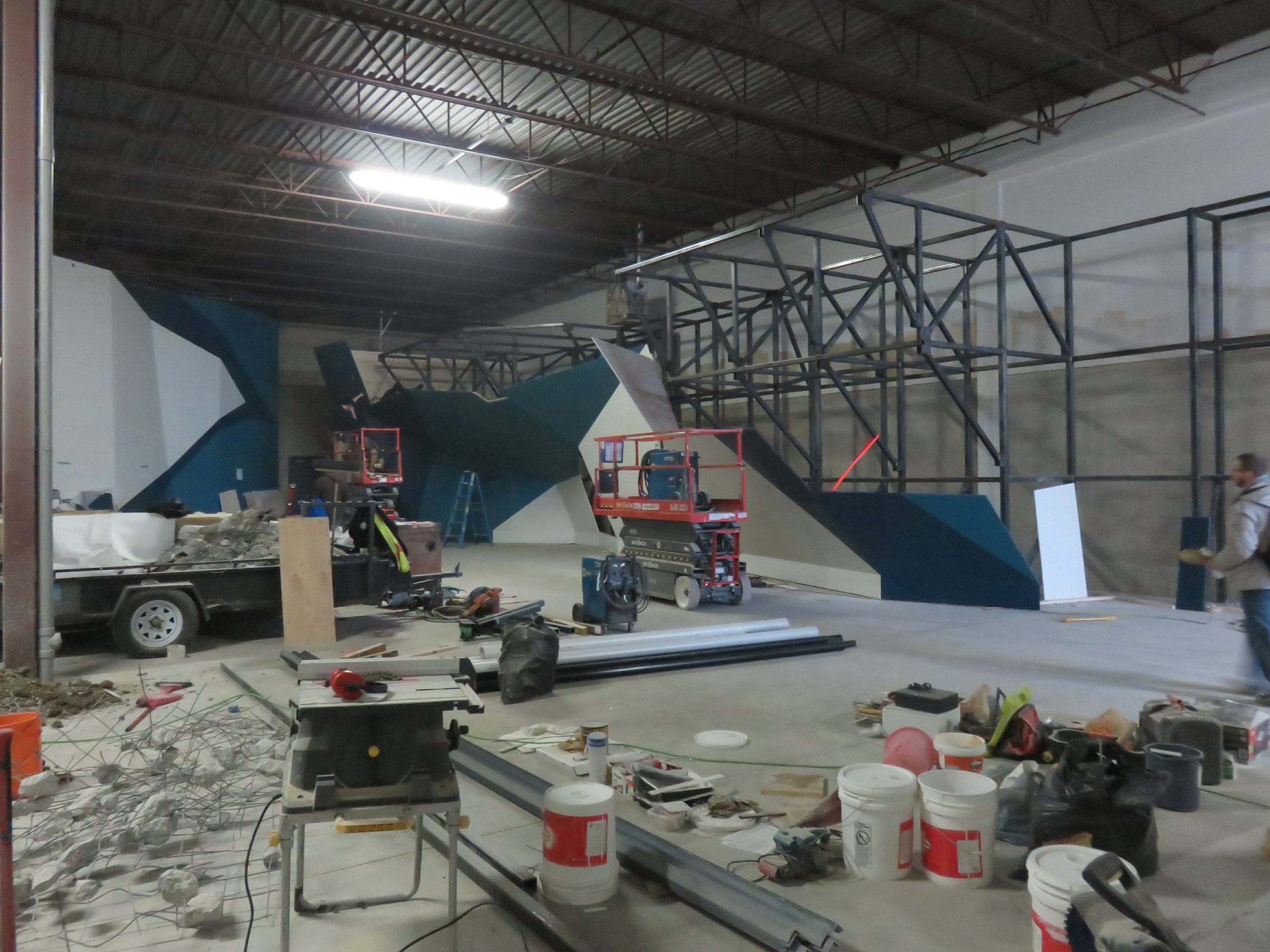 Finally, after months of manual labour and no sleep, we were given the okay by the inspector on March 29th 2017. Out of pure joy we decided to let people in that night, and at 5PM we opened our doors. Our only customer was a 7 year old boy who had a blast running around since he had the whole gym to himself. At our actual grand opening party the turnout was amazing, and the day was an emotional rollercoaster. I don't usually shed tears, but when friends from our university climbing gym handed me an old hold they had signed, I broke down a little. Our hard work had finally paid off and we were ready to begin the next chapter of our life as gym owners. We had turned our dream into a reality.